Canceled 2024 Lovers Key Boat Show
Dear Friends,
It is with great disappointment that we have been forced to cancel the Lovers Key Boat Show. It was to be held on January 26,27 and 28, 2024 and many of you have already signed up for your place in the show. The event field was promised to be rehabilitated after Hurricane Ian with fresh topsoil and grassed. We were just informed on Tuesday that the State of Florida has decided not to rehabilitate the event field. Needless to say, we are beyond saddened by this chapter in our nine-year history of holding the event. Everyone who has paid for their space will be refunded in full, of course. When we know what we will do in the future, you will inform you immediately.
I know our little event is just a short stop for many of you who do events all year. I just want you to know that your participation over the last almost decade has meant a great deal to us. Much more than you may realize. With your participation, you helped our Rotary Club, The Rotary Club of Bonita Springs, provide scholarships for local students, wheelchairs for those in need in third world countries, lifesaving heart surgery for children who would otherwise never see adulthood, provide clean water, schools, disease prevention and more for people in great need and helped eradicate Polio throughout the world. Every dollar you helped us raise went for these very great causes. For that, I thank you all from the bottom of my heart.
I have enjoyed getting to know you all and I will miss our mostly fun and sometimes daunting (windstorms, rain, pandemics) time with you. We apologize for any inconvenience this may have caused you.
Sincerely,
Bob Lombardo
Trustee and Treasurer
The Rotary Club of Bonita Springs Foundation
239 628 8800
[email protected]

The Rotary Club of Bonita Springs
Rotarians are a diverse group of business, professional, and civic leaders who take an active role in the  communities they serve.  Chartered in 1978, The Rotary Club of Bonita Springs has 97 members that continuously build upon our club's rich history as the preeminent business networking and service organization in Bonita Springs.  Our members support a number of local community and civic projects,  including scholarships to local graduating high school students each year, as well as international projects that bring needed capital improvements to some of the most impoverished parts of the world.
Our club is composed of business, community and professional leaders reflecting a wide cross-section of our community.  We Rotarians desire to improve the lives of those less fortunate, make the world a better place, and we are committed to fulfilling Rotary's motto of "Service Above Self."  If you do business in the greater Bonita Springs area, our club offers you an opportunity to network with people who operate their business affairs on the highest level of integrity and ethics.
100% of all profits from this event will be provided to Rotary Charities.
Lovers Key State Park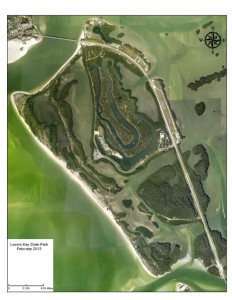 For years, Lovers Key was accessible only by boat and it was said that only lovers traveled to the island to enjoy its remote and solitary beach. Today, it is one of four barrier islands that make up this state park. A haven for wildlife, the islands and their waters are home to West Indian manatees, bottlenose dolphins, roseate spoonbills, marsh rabbits, and bald eagles. The two mile long beach is accessible by boardwalk or tram and is popular for shelling, swimming, picnicking and sunbathing. Black Island has over five miles of multiuse trails for hiking and bicycling. Anglers and boaters can launch their vessels from the park's boat ramp. The park's concession offers kayak tours, as well as bicycle, canoe, kayak, paddleboard, beach chair and umbrella rentals.
The Welcome Center at Lovers Key State Park
Friends of Lovers Key State Park and the Florida Park Service are have joined forces to build the first visitor center in a state park in over 20 years!
The Florida Park Service is constructing the Welcome & Discovery Center in the heart of Lovers Key State Park. Set on the banks of an inland waterway, the design pays homage to this beautiful backdrop, with columns designed to model mangrove roots, and glass walls that open to large observation decks. It is the perfect setting for listening to music, attending a lecture or to just enjoy the natural beauty of Lovers Key State Park.
Friends of Lovers Key has spent several years designing an interior space that befits the State of Florida's iconic building. Support from Rotary will help to furnish the facility with tables, chairs, A/C, exhibits and more.
This space will include: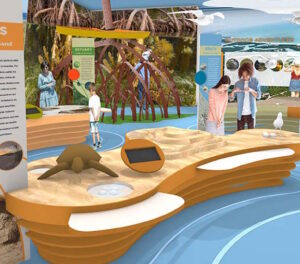 An Exhibition Hall
State-of-the-art interactive environmental exhibit designed by Split Rock Studios of Minnesota.
Bookstore
Ranger Station
A 1500 square foot community room with:
Flex space for classroom & meeting activities, lectures or community events.
Catering kitchen
Cabinetry for classroom and lab equipment
Mobile exhibit walls
The latest audio and video presentation technology
Teleconferencing equipment.
Construction progress on the Welcome & Discovery Center at Lovers Key State Park, Fort Myers Beach.